Interested in Experiencing Reconnective Healing or the Reconnection?
Please contact Karuna Joy (formerly Pat Chen), a teacher and experienced facilitator of spiritual energy healing sessions, thoroughly trained in Reconnective Healing and the Reconnection, and passionate about it. Karuna Joy has clients from Northern Virginia, including the Herndon, Reston, Sterling, Ashburn, Round HIll, Great Falls, Vienna and Oakton area, as well as all over Greater Washington DC, including Tyson's Corner, McLean, Alexandria, Bethesda, Rockville, Columbia, and Silver Spring, Maryland. Her work is also accessible to all parts of the US and the world via phone and long distance healing. Reconnective Healing is highly effective as Distance Healing.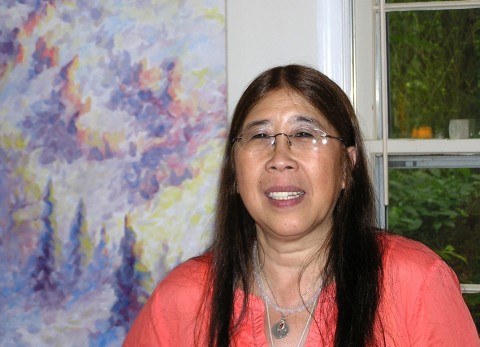 Karuna Joy

703-472-3481
KarunaJoy1 [at] gmail [dot] com
About Karuna  Joy…
Karuna Joy, originally from Queens, New York, attended college at the University of Michigan, Eastern Michigan University, and Glendale University, earning a degree in Natural Health. She has been a play therapist and teacher of young children, homeschooling mother of five, folk musician, and spiritual healer and teacher. Her current absorption in and dedication to Reconnective Healing and facilitating the Reconnection is a natural unfolding of her lifelong passionate journey towards, light, love, peace, and wholeness. Reading Eric Pearl's Reconnection catapaulted her into a completely different, but delightful dimension, where infinite doors of possibility opened everywhere. Nothing was the same, ever again.
 –
Karuna has witnessed immediate and significant healings with Reconnective Frequencies – from severe anxiety, depression, and apparent neurological disorder, to extreme physical pain, skin disorders, and cancer. She sees over and over again how Reconnective Healing is a very powerful high frequency energy that works deeply, seemingly more deeply than anything ever before, to facilitate balance and healing of body, emotion, and spirit.
–
Experiencing the Reconnection is no less than a "miracle" for many of her clients. Past life experiences, meeting guides and angels, spirit journeying, spectacular colors and tones, feelings of infinite peace, and massive physical clearings, are among some of the phenomenal experiences of her Reconnection clients. Significant life changes occur as the process continues to unfold in the subsequent time period following the process, for up to 9 months.
 –
Karuna is forever grateful for this precious opportunity of having learned Reconnective Healing and the Reconnection facilitation, and for the joy of being able to share these powerful healing frequencies with others. She is deeply honored and thankful that so many have come to her, and continue to do so, to receive these significant healing experiences.
 –
Each time Karuna facilitates a Reconnective Healing or Reconnection, she, too, feels herself coming into balance, peace, and wholeness, marvels at this and gives thanks.

 –
To learn more, you can find the book by Dr. Eric Pearl on Amazon here: